Biz Studio is a professional screen acting school for Kids & Teens, operating out of Beatty Street Casting Studios at 788 Beatty St (B2 Level) in downtown Vancouver. Founded in 2002, we are one of the most respected training facilities for young actors in Vancouver. Many of our young students work regularly in Film, Television and Commercials.
The Biz Difference: Biz Studio students have about twice the one-on-one time with faculty as students at other schools (max of 6 students per class), so regardless of experience level we can support/challenge each student appropriately. Having the best staff-to-student ratio in town means that our instructors can choose material appropriate to each student, and personally guide you towards reaching your goals.
Professional: Instructors are all working actors and veteran coaches. Classes are based around the skills students need to audition and work on set.
Practical: Classes are held in a working casting studio at 788 Beatty St in downtown Vancouver. Video from class is uploaded to the website so you and your agent can track your progress. Students without an agent are included in our online showcase, and are regularly signed by local agents.
Prerequisites: No on-camera experience is needed to take our Kids classes, Teens Confidence on Camera classes or Intensives. Students in the Teens On Camera Audition and Scene Study Classes are expected to have a strong foundation in camera and acting technique (i.e. the ability to do confident, realistic, emotionally available on-camera work with a multi-page scene with less than a week's prep time). Many actors study with us over a course of several years, working on progressively more sophisticated material. We use small class sizes (max of 6 students) and a personalized curriculum to ensure that each actor is challenged appropriately.
---
Instructors
Michael Bean: Founder and principal coach at Biz Studio, Michael is one of the best-respected coaches and teachers for young actors in Vancouver. A classically trained actor with an extensive film and television resume (IMDB), Michael is the author of "Confidence on Camera: A Handbook for Young Actors", which is used by many local talent agents as a primer for clients new to the industry. Michael brings the same attention to detail as an instructor that he expects from his students, and his teaching style is characterized by an infectious enthusiasm.
"We always know when one of Michael's students walks in the room; they just know what they're doing." -Casting director Kris Woznesensky
Stephanie Halber: Stephanie is a veteran teacher and working actor, with experience in acting, voice, dance and musical theatre. A graduate of the Canadian College for Performing Arts and former head of youth programming for Victoria's Screen Actors Studio, she's worked on both sides of the camera as an actor, AD, and children's casting director. She currently serves as Producer for Vancouver Web Fest, and works regularly as a reader and casting assistant for casting director Tiffany Mak. Her young clients have been incredibly successful in the last year, including one recent student whose first-ever professional role took her to Mumbai for six weeks as a supporting lead in the feature HEARTBEATS, or another young student who spent all summer working with Julia Roberts and Owen Wilson on the feature film TULLY. Stephanie is passionate about supporting young actors, and has an incredibly warm and approachable teaching style.
Leanne Lapp: Leanne fell in love with teaching while teaching improv after high school and has been teaching and coaching ever since. A busy working actor whose resume includes The Killing, Fringe, Continuum, Rogue, numerous TV movies, and an ongoing recurring role on iZombie (more on IMDB), she started in the industry in Vancouver as a teen and brings that direct experience and perspective to her work with students. Her teaching style is enthusiastic and precise, with an emphasis on helping students make clear choices.

Emily Tennant: Emily started in commercials at age five, booked her first lead role in a movie at age ten, and has been working regularly ever since. Young actors might remember her as "Ivy" in the series Mr. Young, or "Amy Walker" in Flicka 2, but her resume ranges from dramatic television (Supernatural, Dark Angel, Kingdom Hospital), to feature films like the Oscar-winning Juno and lighter fare like The Sisterhood of the Traveling Pants and multiple Hallmark movies (more on IMDB). She's a busy audition coach, and works regularly as a reader for local casting directors Sean Cossey and JJ Ogilvy. Emily's teaching style balances technical precision with warmth and easy humour.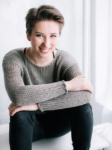 Michelle Creber: As a voice artist, Michelle is probably best known as the speaking/singing voice of "Apple Bloom" and the singing voice for "Sweetie Belle" on the hit animated series "My Little Pony: Friendship is Magic", but she's been at this for a while. Daughter of two professional musicians and producers, her first professional recording session (Armoury Studios) and her first major concert solo (Vancouver's 3000 seat Queen Elizabeth Theatre) were both at age four, and she's been working steadily ever since (Peanuts, New Adventures of Peter Pan, Strange Empire, Supernatural, Smart Cookies, Killer Among Us, Christmas Lodge, The Haunting Hour, The Search for Santa Paws; more on IMDB). A professional singer, Michelle has recorded lead vocals on over a dozen albums in addition to the soundtracks for many TV shows & movies, including the theme song for NBCs Nina's World, and a duet with Billy Joel for the Hallmark movie Just the Way You Are. Her latest album, "On Display", released in June 2018, sold and streamed in over 65 countries, and in its first week made the US Top 100 Billboard charts. At eighteen she is the youngest member of Biz Studio's staff, and uniquely qualified to appreciate the kind of support young actors need. Her coaching and teaching is characterized by the intelligence and fierce commitment that drove her own early successes.

Luisa Jojic: A multiple time Jessie nominated performer and an avid arts educator, Luisa is a regular on Vancouver stages, performing with companies like Bard on the Beach, The Arts Club, The Vancouver Playhouse, The Vancouver Opera, Pi Theatre, Touchstone Theatre, Mitch and Murray Productions, Blackbird Theatre, Theatre Conspiracy, The Richmond Gateway Theatre, and Theatre Northwest. Her screen credits include CW's Arrow and Supernatural, ABC's Reaper, Lifetime Network's The Client List, and Fox Network's Ace of Hearts (more on IMDB). She is a senior teaching artist at Bard on the Beach, where she was a founding instructor in both The Riotous Youth Program and Bard in Your Neighbourhood, and was the Co-ordinator of The Young Shakespeareans program from 2013-2015. She is also the program director of True Voice Theatre Project, a community theatre program in Vancouver's Downtown Eastside which explores issues of homelessness and community, and for which she was nominated for a 2016 YWCA Metro Vancouver Women of Distinction Award.