The Biz Difference: We use small class sizes (max of 6 students) and a personalized curriculum to ensure that each actor is challenged appropriately. No experience is necessary to join a workshop, and all workshops are mixed level (i.e. a mix of new and experienced/working actors). Many actors study with us over a course of several years, working on progressively more sophisticated material. If you have questions please feel free to Contact Us!
How To Register: New students should fill out our Registration Form. To confirm your registration in any class or workshop click the "register now" button to pay with a credit card via PayPal, or call (604) 801-7050 with your credit card info. Plans may change? No problem! Students who cancel a minimum of two weeks prior to the start of the class will be refunded 100% of their course fee.

Voice Over
Voice Over Acting for Animation & Commercials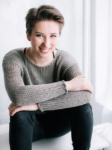 A crash course in the skills that young actors need to audition and work professionally in the competitive world of voice-over acting, led by expert voice artist Michelle Creber. Michelle has been working professionally from the age of five, with voice credits including Lucy in "Peanuts", Wendy in "The New Adventures of Peter Pan" and a recurring role as the speaking/singing voice of "Apple Bloom" and the singing voice for "Sweetie Belle" on the hit animated series "My Little Pony: Friendship is Magic". Students work on a new voice-over script each class, and audio from each class is posted on the website so that you can track your progress, and accumulate clips for a voice "demo" (a requirement for approaching voice-over agents and for working professionally; like the audio equivalent of an actor's resume).
Kids (Ages 7-9) Sundays 12:00-1:00 | Max 4 Students | April 28th to June 23rd (8 weeks of class; May 19th long weekend) | $295+GST
Tweens (Ages 10-13) Sundays 1:00-2:30
| Max 4 Students | April 28th to June 23rd (8 weeks of class; May 19th long weekend) | $395+GST
Teens (Ages 14-17) Private Coaching
|
Contact Us