film + TV
Acting + 
Audition
Classes 
AGES 12-17
Do what you love! Biz Studio classes are fun, fast paced, and focused on the skills that young actors need to know to audition and work in film and television.
Check out our
Frequently Asked Questions
and
About Us
for more info, or use the buttons below to register now!
Teens Age 12-17
Acting + Auditioning for Film + TV
Dates, Info and Registration
Not sure what the right class is for you? Have you checked our Frequently Asked Questions?
Plans may change? No problem! Students who cancel a minimum of two weeks prior to the start of the class will be refunded 100% of their course fee.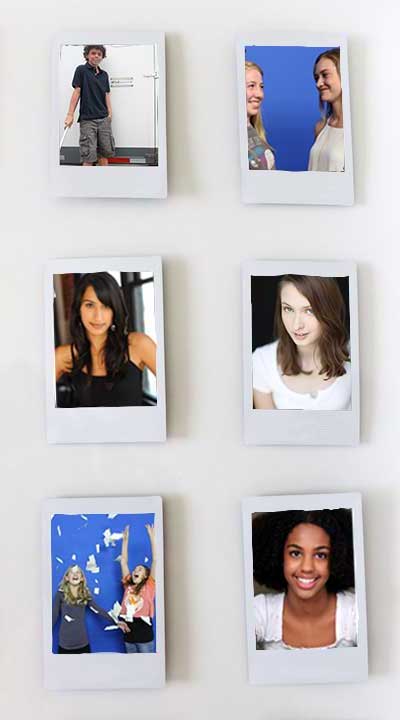 FREQUENTLY ASKED QUESTIONS
What do you teach in your classes?
Q: Is it an acting class?
A: Yes.
Q: Is it an audition class?
A: Yes.
Q: Acting for commercials?
A: Uh-huh.
Q: Camera technique?
A: Lots of it.
Q: What about scene study?
A: Some of that too.
Q: How is that possible?
A: Because classes are so small that we can do All The Things, and do them well!
Is this class right for my young actor?

Q: My young actor is new, will this class work for them?
A: Yes.
Q: My young actor is more experienced, will this class work for them?
A: Yes.
Q: How does that work?
A: More experienced students are assigned longer/more difficult scenes, and new students are assigned shorter/easier scenes. Small classes mean that we can find the right balance of support & challenge for each student.
Q: My young actor is very confident, very experienced and/or has worked professionally in film and television for years, and doesn't want to be in a mixed-level class. Is there a class you have to audition for?
A: Yes. We have an on-camera scene study class for very experienced students and working actors that is available by invitation or audition only. If you are interested in arranging a video-audition please Contact Us and we'll send you all the details!
I have more questions!
Q: Will it be the same class as last time?
A: No. Class is always changing, with new scripts and new exercises.
Q: Will we get to see video from the class?
A: Yes. Video from class is uploaded to a private page on the website each week.
Q: Will you be my talent agent?
A: Schools in BC are forbidden by law from being talent agents… but if you want we'll include you in the web gallery of unrepresented students that we send out to talent agents each semester, lots of our students find their agent that way.
Q: What is a talent agent? What is a casting director? How do auditions work?
A: Great questions! Check out the "Confidence on Camera" Handbook on our Actors Toolkit page for answers to all those questions and more!
We want to hear from you. Let us know how we can help your young actor do more of what they love.